Note that this does not exist in Minecraft; it was written purely as a fiction article.
Gator's Rage
was a lively ancient creeper that lived before
Herobrine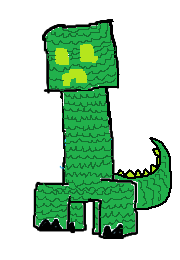 came to the world. He was friends with many but always had the desire to be one of the main leaders. He became friends with
Tiger's Roar
as they both had something in common.
History
Gator's Rage was a friendly and polite creeper, but always wished he could be a leader among the creepers. Then, he met Tiger's Roar, along with Sun Claw and Night's Shadow. He was uninformed about Tiger's Roar and his ambition to take down Cloudy Night, but he played along.
Gator's Rage died about five years after Herobrine came, and he knew him well.