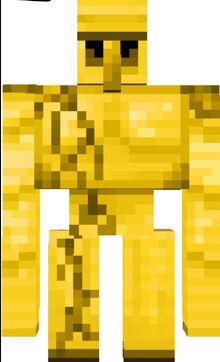 Golden Golem is a fanfiction. It only requires mods.
How to make
It's like and Iron and Diamond Golem. Just use 4 gold blocks and a carved pumpkin. It Is much harder than an iron golem. Iron Golems and Snow Golems are hostile to this mob.
Strength
It C kill you with just one throw. He'll just toss you into the sky. It protects Nether Villages. Not good. It has 122 Hearts of health.
Drops
Golden golems will drop 1 - 2 golden apples upon death. But in hard difficulty, It will drop just a gold block.