Note that this does not exist in Minecraft; it was written purely as a fiction article.
Sun Claw
is an ancient creeper that lived before
Herobrine
came.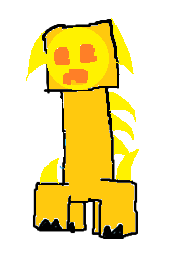 She was very clever and devised plans to get what she wanted. She met
Tiger's Roar
and followed him with his plan to take down
Cloudy Night
.
History
After Sun Claw met Tiger's Roar, she fell in love with him. He, however, showed no signs of returning the relationship. Along with Night's Shadow and Gator's Rage, they attempted to take down Cloudy Night and become leaders that would share power.
However, their plan failed and all four of them were driven away. Sun Claw died three months before Herobrine came.